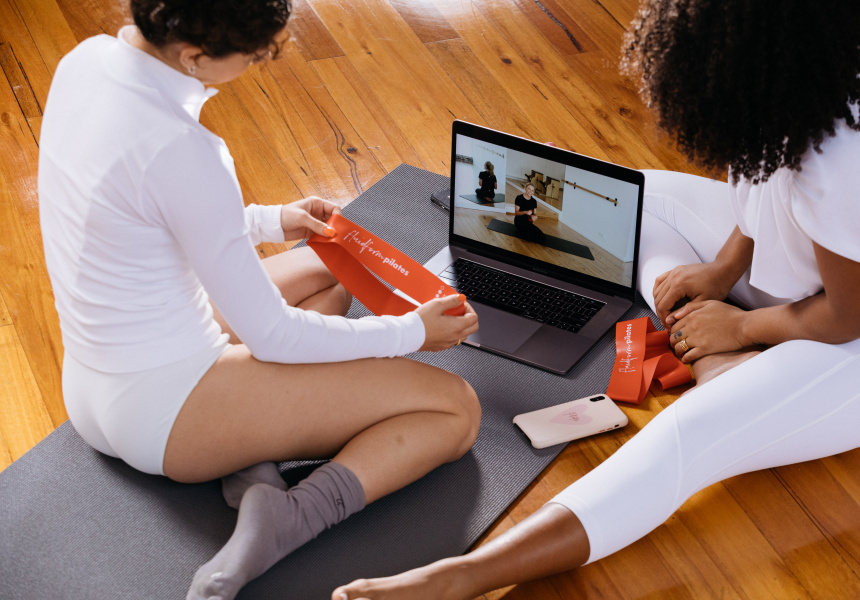 In January – approximately 1000 years ago – at-home exercise programs weren't an entirely foreign concept, but they weren't nearly as prevalent as they are now. Back then, working out at home felt retro. Sweating it out in front of a screen was a little bit '90s, reminding us of our parents following a grainy step-aerobics VHS.
But when local fitness studios were forced to close they rose to the occasion, giving us newly minted online at-home exercise classes to do in the safety of our lounge rooms. Now we can do workouts by studios from across the country.
We've rounded up a few of the best at-home exercise of 2020. Ready, set, sweat (safely).
Love Athletica: At Home With Love
Melbourne's Cali-inspired studio entered the virtual realm via At Home With Love, an on-demand mat and reformer Pilates platform that caters to every skill and time constraint, with five new classes added per week. Melburnians can now head to its brand new IRL option in South Yarra, which offers reformer sessions on a rooftop.
From $49 per month
Australia's chicest workout space? Perhaps. But looks aren't the end of the story as this Double Bay-based (Sydney's eastern suburbs) studio demonstrates with its popular Shelter On Demand option. Whether you're a Ride devotee (you can have a bike delivered to you at home) or just want to experience the Sculpt, Strength or Yoga sessions, there's a sweat solution for you. You can even filter by music choice, difficulty or duration.
From $9.99 per week
Good Times Pilates: Good Times Online
Good Times Pilates, in Fitzroy, Melbourne, pivoted to online during Melbourne's second lockdown, sharing a bank of mat classes with a fun vibe that covers the gamut from laid-back Stretch + Chill sessions to the high-intensity Sweat classes. There's also the low-commitment Fun Size offerings.
From $39 per month
Lean Bean Fitness – Bean Online
Consider this Sydney-based studio your all-rounder. It has classes covering everything from HIIT (high intensity interval training), barre and boxing to strength, stretch, Pilates and yoga. You can even filter your fitness preferences by the area you want to work, or request a workout and the team will film one for you. Pregnant people aren't excluded (you'll get access to weekly pre- and post-natal offerings. And there's recipes and nutrition advice.
From $49.50 per month
Bodhi and Ride – Bodhi At Home
Spin fiends can get their fix with Bodhi At Home, by the team behind Bodhi and Ride cycle studio in Melbourne. Don't have your own bike? No prob – the team at Bodhi will help you buy or hire one for your home, whether you're in it for the long haul (buy) or prefer to flirt (borrow). You can also pay-per-view at $14.99 per workout, or sign up for the on-demand workout bank.
From $99 per month
The Spring Collective – TSCOnDemand
Residents of Sydney's northern beaches already know and love The Spring Collective, but now we can all get in on the action thanks to the studio's TSCOnDemand option. Workouts are organised by blocks, which can be layered according to your mood and skill level to create your ultimate Pilates session. There are also two new add-ons coming to the program – Pilates for Performance, which aids dancers and gymnasts, and Pilates Protégé, an education and training portal.
From $19.95 per month
Fluidform Pilates – Fluidform At Home
One of Sydney's most popular Pilates studios already had online classes running pre-Covid, but its Fluidform At Home offering really hit its stride during lockdown. Its site now filters classes by what area of the body you want to work on. And it has introduced at-home reformer classes and a more diverse range of shorter, targeted sessions that have made Fluidform At Home one of the best online Pilates offerings in Australia.
From $35 per month