A rapper known for his luxurious lifestyle and decadent food show has stunned fans with his 58kg weight loss.
Ariyan Arslani, better known as Action Bronson, 37, has toured the world indulging in the finest cuisines along the way on his famed TV show F*** That's Delicious.
But the artist, TV host and professionally trained chef embarked on a new journey committing to a new diet and fitness routine for the last year resulting in his transformative weight loss.
RELATED: The Chase star Mark Labbett reveals secret to his 63kg weight loss, drops five dress sizes
Bronson tells The New York Times, prior to his pandemic-induced health kick, he was "eating like I was a child, like I was a growing boy, anything in sight."
"I knew I wasn't in a good place. I could barely fit in this chair. My stomach would catch on the sides," he shares.
Adopting a routine of constant workouts and nutrient rich food, Bronson forewent the lavish meal plans featured on his show that spanned five seasons, swapping indulgent, often multiple course meals, for tailored healthy options.
RELATED: Rebel Wilson says she faces 'challenge' to keep her 27kg weight loss off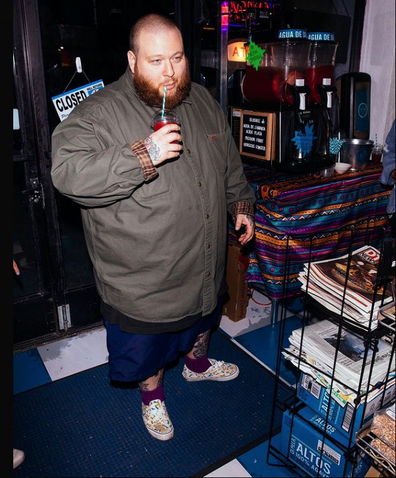 The Queens born New Yorker, known for spreading him charm across the globe, fuelled his famous show with a fervent passion for culinary skills and authentic cuisine, but has since limited his indulgences in pursuit of a better lifestyle, as consumption without consequence began to take its toll.
Bronson said the popular series, that aired four seasons on the VICE Network, and its fifth on YouTube, promoted a way of eating that "became comfortable, to where it wasn't just the show."
The rapper even likened his off-air indulgences to doing "heroin every day."
Prompted to take action, like his namesake, in the pursuit of better health, Bronson signed a contract to write a self-help book, F*** It, I'll Start Tomorrow, due in April.
As coronavirus hit in March last year, Bronson committed to a fitness regime of walking, jogging and drinking nutritionist-approved green juice occasionally as meal replacements as well as grilled chicken and sweet potato.
Within two months, the rapper lost 27 kilos.
After building his stamina, the musician fell back into his childhood love of bodybuilding, adding weight training exercises to his regime.
Since March last year, the musician has clocked a 58kg weight loss, and admires the self-worth that's accompanied it.
"You see my ankles now — they're like model ankles."