Loading
Crunch Fitness group programs manager Alissa To'omata says members at their gyms in Sydney and Melbourne were asking for Step.
"Australia lost a lot of instructors after the peak of Step in the 1990s and, at a certain point of time, it fizzled out but it's something people have been asking for," she says.
"We brought it back with new instructors to bring it back to life and it's popular with a lot of younger members now as well."
"Our top classes are all the rhythmical, dance ones – Zumba, Just Dance, Step. It's about escaping and enjoying your workout without thinking about how hard it is but these classes are also great for balance, cardio, coordination and to just lose your inhibitions and express yourself.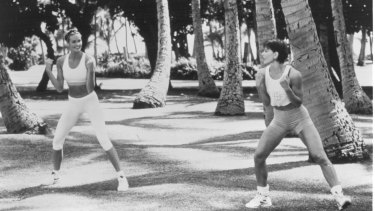 "We've learnt that when people feel comfortable to be who they are in their own skin they will enjoy themselves more. For every fitness program we run, it's the number one thing we see that people come here initially to lose weight but in the process they discover they can lose themselves in dance routines and connect with other members."
Dancer Lucy Carr has taught Zumba in Melbourne for 10 years and dance for 17 years but recently began Born to Boogie classes primarily for mothers that are all set to 1990s music.
"It's the nostalgia," Carr says. "It takes them back to a time in their lives they remember well. I have a strong demographic aged in the forties and fifties and then there are younger people who love that music and they're all wearing the clothes as well … That era just never gets old."
Her classes see participants dancing to tracks by Destiny's Child, Spice Girls and Madonna, and Carr says they often want to completely replicate the choreography from the original music videos.
Loading
In her Born to Boogie program, classes run for 13 weeks and end with a celebratory concert, complete with costumes, held at Chasers in Chapel St, Prahran which is where all the fun often began for the participants in the 90s.
"That's why it's blown up – the movement from dance to fitness. It's no longer about saying 'I never dance and can't dance.' It's so much more accessible now and, really, dance is happiness. We have a laugh and some fun and it puts everyone in a good mood."
Get a little more outta life
Start your week with practical tips and expert advice to help you make the most of your personal health, relationships, fitness and nutrition. Sign up to our Live Well newsletter sent every Monday.