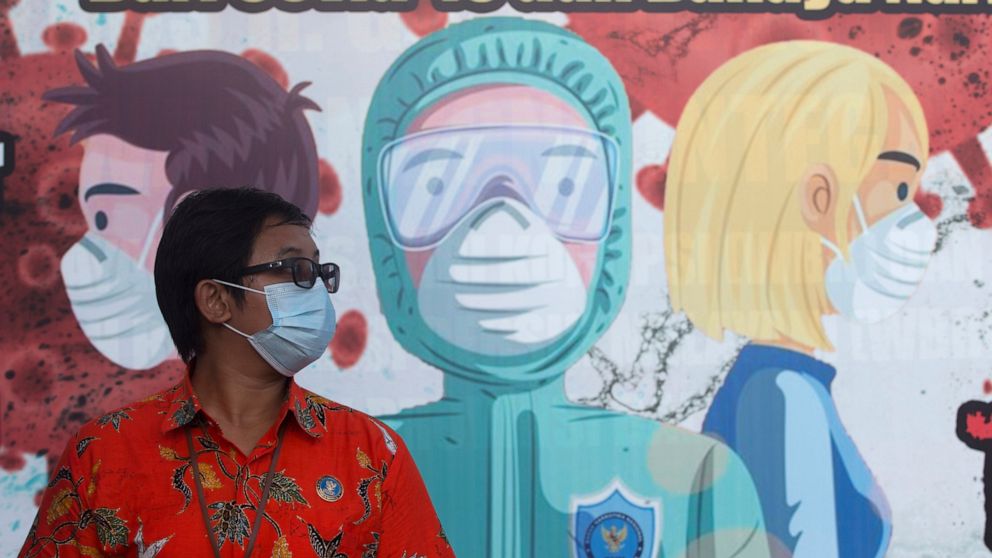 GENEVA — Member countries of the World Health Organization have approved an "ambitious increase" in the budget for the U.N. health agency at a meeting, with some noting that WHO's chronic underfunding cripples its ability to protect global health.
Delegates at the World Health Assembly on Thursday approved a 16% increase to WHO's proposed budget for the next two years, setting it at about $6.1 billion.
More than 90% of WHO's funding is tied to specific health issues, and the agency often struggles to respond to urgent crises. Dr. Michael Ryan, WHO's emergencies chief, said there is currently a 70% funding gap, which has "left the organization in real and imminent danger of being unable to sustain core functions for urgent priorities."
A commissioned review of the WHO in the wake of its global handling of the COVID-19 pandemic suggested the agency could have acted faster and more aggressively to stem the spread of the coronavirus, but also said it lacked power and money.
———
MORE ON THE VIRUS OUTBREAK:
— South Africa race to give vaccine shots to older adults before virus surges
— California giving away $116.5 million in attempt to get millions vaccinated
— Japan to extend virus emergency with safe Olympics at stake
———
Follow more of AP's pandemic coverage at https://apnews.com/hub/coronavirus-pandemic and https://apnews.com/hub/coronavirus-vaccine
———
HERE'S WHAT ELSE IS HAPPENING:
———
COLOMBO, Sri Lanka — The: Sri Lankan government on Friday announced that it has received 50,000 doses of the Russian-made Sputnik V vaccine.
Sri Lanka is facing a severe shortage of COVID-19 vaccines because the manufacturer of the Oxford-AstraZeneca vaccine in India did not supply promised stock due to the domestic coronavirus emergency. Sri Lanka had arrangements to buy 13.5 million doses of the AstraZeneca vaccine.
The 50,000 doses of Sputnik V that were flown into Sri Lanka late Thursday are the second batch of the vaccine to be given to the Indian Ocean island nation, the government said. Another 15,000 doses arrived earlier this month.
Sri Lanka has entered an agreement to purchase 13 million doses of Sputnik V to be delivered in phases until December.
On Thursday, Sri Lanka began to expand it's inoculation program across the country amid a sharp increase of confirmed cases from different parts of the country in recent weeks.
Previously, the vaccination program was centered in the capital region.
As of Friday, Sri Lanka's total number of confirmed cases stood at 174,860, with 1,325 deaths.
———
PRAGUE — The Czech Republic is further relaxing coronavirus restrictions amid a decline of new cases and making it easier for residents to travel to seven other European Union countries.
Health Minister Adam Vojtech said all restaurants and bars will be allowed to resume indoor service for customers who have been vaccinated, tested negative for the coronavirus or recovered from COVID-19.
The ministry originally planned to lift the restrictions on bars and restaurants but acted sooner after a court ruled the measures were too restrictive.
At the same time, all public swimming pools, saunas and wellness centers will be allowed to return to business on Monday at 30% capacity.
Czechs also can travel to seven other EU countries starting Monday if they have received the first dose hot of a two-shot coronavirus vaccine. The countries are Germany, Poland, Slovakia, Austria, Hungary, Slovenia and Croatia.
The country's number of newly confirmed daily cases dropped to 505 on Thursday, down from almost 17,000 in early March.
———
ALBANY, New York — Employers aren't allowed to refuse paid sick days if people feel ill after getting a dose of the vaccine, New York Gov. Andrew Cuomo said..
Cuomo said the state's labor department will issue guidance that makes it clear that employees can take a paid sick day to recover from rare but potential side effects from the COVID-19 vaccine.
Federal health officials say the vaccine is safe and that side effects aren't unusual. Some people have reported fever, chills, nausea, a sore arm, fatigue or headache after receiving a dose.
"I want to be crystal clear — no New Yorker will miss a day's pay because of getting the vaccine," Cuomo said Thursday.
New York has a paid sick leave law on the books, and another state law allows employees to use up to four hours of excused leave per COVID-19 vaccine dose. That time can't be charged against any other leave the employee has earned or accrued.
About 46% of New York's 20 million residents are fully vaccinated, according to federal data. That's above the national average of 40%.
———
CHARLESTON, W.Va. — West Virginia will step up its prizes for vaccines, enrolling all residents who have received a coronavirus shot into a lottery for the chance to win a college scholarship, an F-150 pickup truck or cash rewards.
Republican Gov. Jim Justice announced the plan for the new incentives Thursday, but more details are expected to be finalized next week. The governor has aimed to turn around a vaccination drive that drastically slowed down after a strong early start.
"We're going to make a few West Virginians millionaires before this is over," Justice said. The program is expected to be paid through federal pandemic relief funds.
———
BATON ROUGE, La. — A statewide "Shot for a Shot" campaign offering free drinks for people who get vaccinated against COVID-19 will begin in June, officials said Thursday.
Participating businesses will provide a free alcoholic or non-alcoholic drink to people who can prove they've been fully vaccinated within the previous seven days, the Louisiana Office of Alcohol and Tobacco Control said.
Just under 31% of Louisiana residents have been fully vaccinated, compared to 40% nationwide, according to the U.S. Centers for Disease Control and Prevention.
Several bars and restaurants in New Orleans held "A Shot for a Shot" events in April. Establishments in Baton Rouge also have held such events.
The state office will collect drink tallies from participating bars and restaurants for the Louisiana Restaurant Association, which will provide partial reimbursements.
———
BOISE, Idaho — With the governor out of the state, Idaho's lieutenant governor issued an executive order Thursday banning mask mandates in schools and public buildings, saying the face-covering directives threatened people's freedom.
Republican Lt. Gov. Janice McGeachin is acting governor while Gov. Brad Little is at the Republican Governors Association conference in Nashville, Tennessee. He was expected to return Thursday evening.
Last week, McGeachin announced her run for governor, challenging the first-term incumbent Little. McGeachin is on the far right of the political spectrum in the conservative state, and her order could bolster her support as a candidate for governor.
Little's office said McGeachin did not make him aware that she planned to issue the executive order. The office didn't say what Little would do when he returned but it did say residents value local control. Little has never issued a statewide mask mandate, but some counties, cities and schools have. Many have been lifting the mandates as more residents are vaccinated against COVID-19.
———
MENLO PARK, California — Facebook says it will no longer remove claims that COVID-19 is man-made or manufactured from its apps.
The change comes "in light of ongoing investigations into the origin of COVID-19 and in consultation with public health experts," Facebook says.
The company based in Menlo Park, California, has long battled a tide of coronavirus-related misinformation. It said in December it would remove vaccine-related misinformation.
"We're continuing to work with health experts to keep pace with the evolving nature of the pandemic and regularly update our policies as new facts and trends emerge," said Guy Rosen, Facebook's vice president of integrity, in a statement Wednesday.
Facebook doesn't usually ban misinformation outright on its platform, instead adding fact-checks by outside parties, which includes The Associated Press, to debunked claims. The two exceptions have been around elections and COVID-19.
U.S. President Joe Biden recently ordered U.S. intelligence officials to "redouble" their efforts to investigate the origins of the COVID-19 pandemic, including any possibility the trail might lead to a Chinese laboratory.
———
TEL AVIV, Israel — Israel welcomed its first group of foreign tourists since largely shutting down air travel because of the coronavirus pandemic more than a year ago.
Tourism Minister Orit Farkash-Hacohen welcomed a group of Christian theology students from Missouri, telling them: "Everything is open here, from restaurants to hotels, to resorts to holy places."
Israel has vaccinated around 85% of its adult population and has fewer than 500 active cases. Most places have reopened in recent months, including indoor dining, gyms and sporting and concert venues. But Israel has been hesitant to welcome foreign tourists, partly out of concern over new variants.
The group that arrived Thursday is part of a pilot program, with other groups set to arrive in the next two weeks. All visitors must show proof of vaccination and take a COVID-19 test before departure and upon arrival.
Flights were cancelled or rerouted during Israel's 11-day war with Gaza's militant Hamas rulers. A cease-fire that went into effect on May 21 has held so far.
———
JAKARTA, Indonesia — Two vaccines made by China's Sinopharm appear to be safe and effective against COVID-19, according to a study published in a medical journal.
The report, published online in the Journal of the American Medical Association, concluded the two vaccines are about 73% and 78% effective, as Sinopharm has previously claimed.
Scientists have been waiting for more details about the two vaccines, even though they already are used in many countries and one recently won the backing of the World Health Organization.
Researchers from Sinopharm and its local partners in the Middle East say the trial involved 40,380 participants with the company's two vaccines — one developed by the Wuhan Institute of Biological Products and the other by the Beijing Institute of Biological Products — and a placebo. The trial was carried out in Bahrain, the United Arab Emirates, Egypt and Jordan. However, the study provided data for just Bahrain and the UAE.
Health experts say there's not enough data in the study to show whether the vaccines provide protection against severe disease. The study also involved many more men than women, which means there is not enough data to determine if there are safety concerns that impact women.