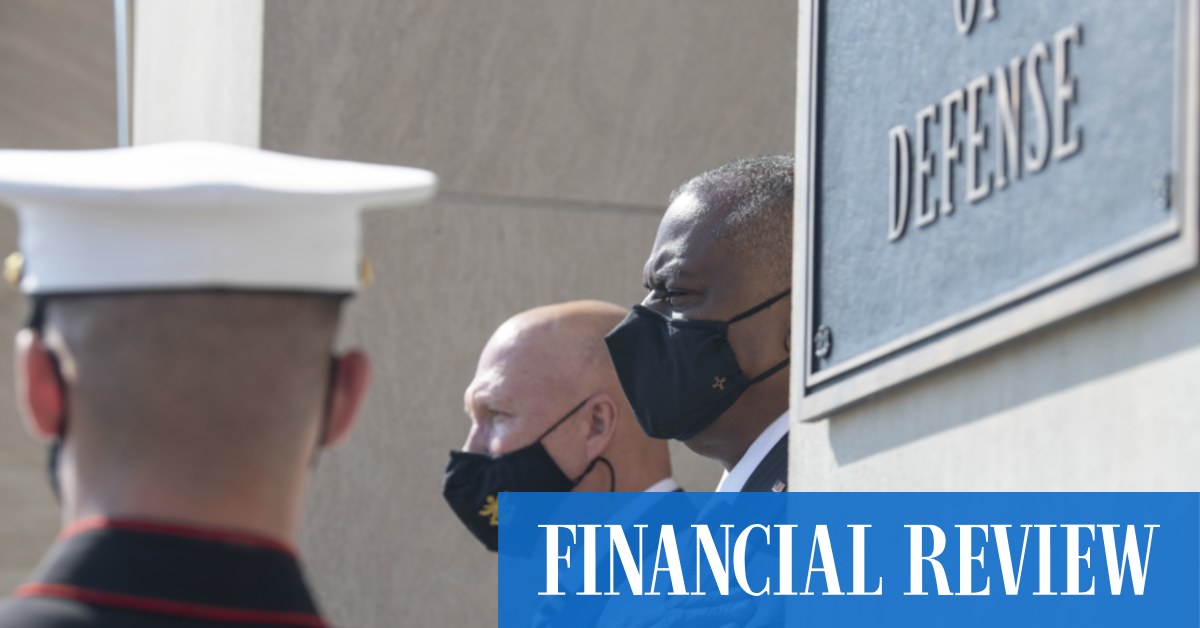 The leaders also signing a "classified" statement of intent on strategic capabilities, co-operation and implementation of technologies in defence manufacturing, and they will establish new levels of logistics and maintenance to support all the enhanced military activity.
The agreement is the product of months of discussions as part of the 31st AUSMIN talks where Mr Dutton and Mr Austin were joined by Foreign Minister Marise Payne and US Secretary of State Antony Blinken. All referred to China's rise in the Indo-Pacific.
The leaders also agreed to enhanced US presence and co-operation around space and satellites.
"We're also looking towards the domains that will shape our future activities that will expand Australia's space knowledge and capabilities. I'm pleased to announce that the Australian Department of Defence and the United States National Reconnaissance Office have also committed to a broad range of satellite activities," Mr Dutton said.
Details and figures of the technology and operations as well as the levels of personnel, aircraft, maritime and satellite resources were not provided.
Secretary Austin confirmed the expansion of US presence in Australia and while he said the new arrangements were "not aimed at anything or anyone", he said nations needed to be clear-eyed on China's agenda in the region.
Advertisement
"Today, we endorsed major force posture initiatives that will expand our access and presence in Australia. We agreed to take immediate steps to improve interoperability through deeper integration," Mr Austin said.
"We spoke in detail about China's destabilising activities and Beijing's efforts to coerce and intimidate other countries contrary to establish rules and norms."
"While we seek a constructive, results oriented relationship with the PRC, we will remain clear eyed in our view of Beijing's efforts to undermine the established international order."
US won't leave Australia 'alone on the pitch'
All the four leaders made specific comments on China, indicating it was a major part of the AUSMIN discussions.
Mr Dutton said he was not surprised by China's negative response to the beefed up military relationship with the United States and said that the reality of the new arrangements was all about securing the region in the context of China's approach.
Advertisement
"This is not the first time that we have seen an outburst from China in terms of Australia's position. We are a proud democracy in our region. This collaboration makes it a safer region, that's the reality and no amount of propaganda can dismiss the facts.
"The incredible uncertainty in the Indo-Pacific formed the basis of much of our discussion here with our colleagues. It's a very significant uncertainty, more so than any time since the Second World War."
Mr Blinken reiterated the US's renewed support for Australia while it was treated unfairly by China.
"Beijing has seen over the past few months that Australia will not back down, and the threats of economic retaliation and pressure simply will not work. The United States will not leave Australia alone on the field, or better yet, on the pitch," Mr Blinken said.
"We've made it clear that actions like these targeting our allies, will hinder improvements in our own relationship with the Chinese government. We welcome Australia's leadership in standing up for universal values that we seek to uphold."
Ms Payne also hinted that China's motivations in the Indo-Pacific were clearly at odds with Australia's.
"We discussed the competition of China and a number of levels that requires us to respond and to increase resilience.
"There is room for each nation to be itself within that regional framework that protects and respects sovereignty, which champions openness, and resists unilateral assertiveness and breaches of international rules and norms."
"We are supporting that vision practically, by ensuring others in the region have confidence that there are options available. Our question is; 'What do you need?' not; 'How can you serve our strategic interests'."?