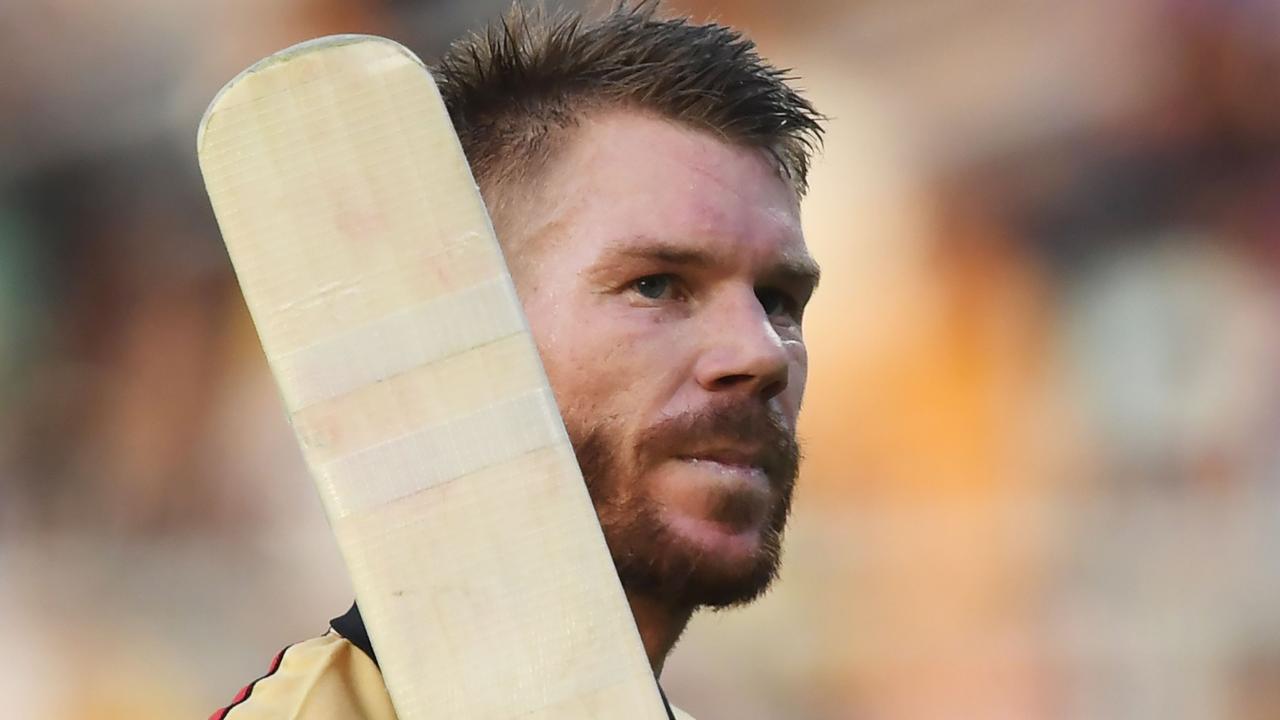 Just when Australia needed him to find form with a T20 World Cup looming, David Warner has not only failed to fire but is also unlikely to play for his IPL franchise again.
David Warner's time in the IPL this season could be over after he was dropped by Sunrisers Hyderabad, just months after being stripped as captain of the team.
Warner is one of the biggest names in the IPL, especially at a time when a number of players opted not to return to complete the season following its suspension earlier this year.
However, he was left out of the team altogether on Monday – the second time it has happened this season – as Hyderabad thrashed Rajasthan Royals by seven wickets thanks to half centuries from Jason Roy and Kane Williamson, the man who replaced Warner as captain.
Watch Every Match of the VIVO IPL 2021 Season Live with FOX SPORTS on Kayo. New to Kayo? Try 14-Days Free Now >
Warner played the first two games of the IPL's return in the UAE before being dropped, but he paid the price after suffering a duck in the first and managing just two in the second as Hyderabad lost back-to-back games.
The 34-year-old is now unlikely to play for the franchise again, with Sunrisers coach Trevor Bayliss explaining that Warner and other more senior members of the squad had been left out to give an opportunity to younger stars, now there is no chance of making the playoffs.
"We've got a lot of young players here, and for this match we decided obviously we're going to make a few changes in the team," he said.
"But to give some of the young players who haven't been a part of the 18 and we had to bring them to the game, give them the opportunity to come along and experience a game."
.
Roy scored 60 after coming in to replace Warner and the Aussie dropped a hint that he would not now get his place back.
In an Instagram post from the Sunrisers, one fan responded asking, "Is Warner in the Stadium… we didn't spot him?!" to which Warner himself replied, "unfortunately won't be again but keep supporting please"
World Cup injury scare
Australian all-rounder Marcus Stoinis is set to miss just two games of the re-started Indian Premier League after he injured his hamstring while bowling in the first match for the Delhi Capitals in Dubai.
Stoinis, who is using the IPL as preparation for the T20 World Cup next month, pulled up in pain during the first ball of his second over and limped off the field.
He took no further part in the match as the Capitals went on win the game over Sunrisers Hyderabad, with opener David Warner out for a third ball duck in his first innings since April 28, nearly five months ago.
Stoinis, who also hurt his back in pre-season training for WA and hasn't played a game since April, will have a scan, but isn't expected to be sidelined for long.
He was replaced in the field by fellow Aussie Steve Smith, who was overlooked for the starting team.
Australia's first match of the T20 World Cup is a month away and Stoinis looms as a crucial part of the lower order with the bat, having developed his game to be a "finisher".
But while Stoinis battles an injury issue, fellow all-rounder Mitch Marsh is nearing top-gear ahead of the tournament, blasting a century for WA in the opening domestic one-day game on Wednesday.
Marsh, who made the number three position in the Australian T20 side his own during recent tours of the West Indies and Bangladesh, said he'd skip this week's Sheffield Shield game to keep his focus on white-ball cricket.
He'll have at least one more game for WA before travelling to the World Cup.
"I've just tried to mirror my preparation from the last tour, and that was solely a Twenty20 focus," Marsh said after today's one-day win in Adelaide.
"This is white-ball cricket and fairly similar, and obviously I want to be playing as much cricket for Western Australia as I can, but I'm representing Australia in a World Cup and it's a huge tournament.
"So I want to be in my best form going into that.
"To be brutally honest, I've just practiced hitting sixes and that's all I really did before I went away (to the Caribbean) and it seemed to work for me.
"I'll keep doing that, and I guess when I eventually play some red-ball cricket, that will have to change, but I'm just enjoying training hard and preparing for games, so nothing will change too much."
Marsh knows he may not bat at number three at the World Cup, with a raft of Australia's top-line batsmen – including Steve Smith and Glenn Maxwell – returning after missing the overseas tours.
"I'm hopeful to be up there (in the top-order), but we've got so many good players," he said today.
"I mean, Steve Smith has held that role for a fair while now and he's a fair player, that guy.
"Whatever role I get, whether it's batting at number three or floating through that middle-order like we do with all those guys in there, I'm going to be really clear on my role and do it to the best of my ability and hopefully help Australia win games of cricket."