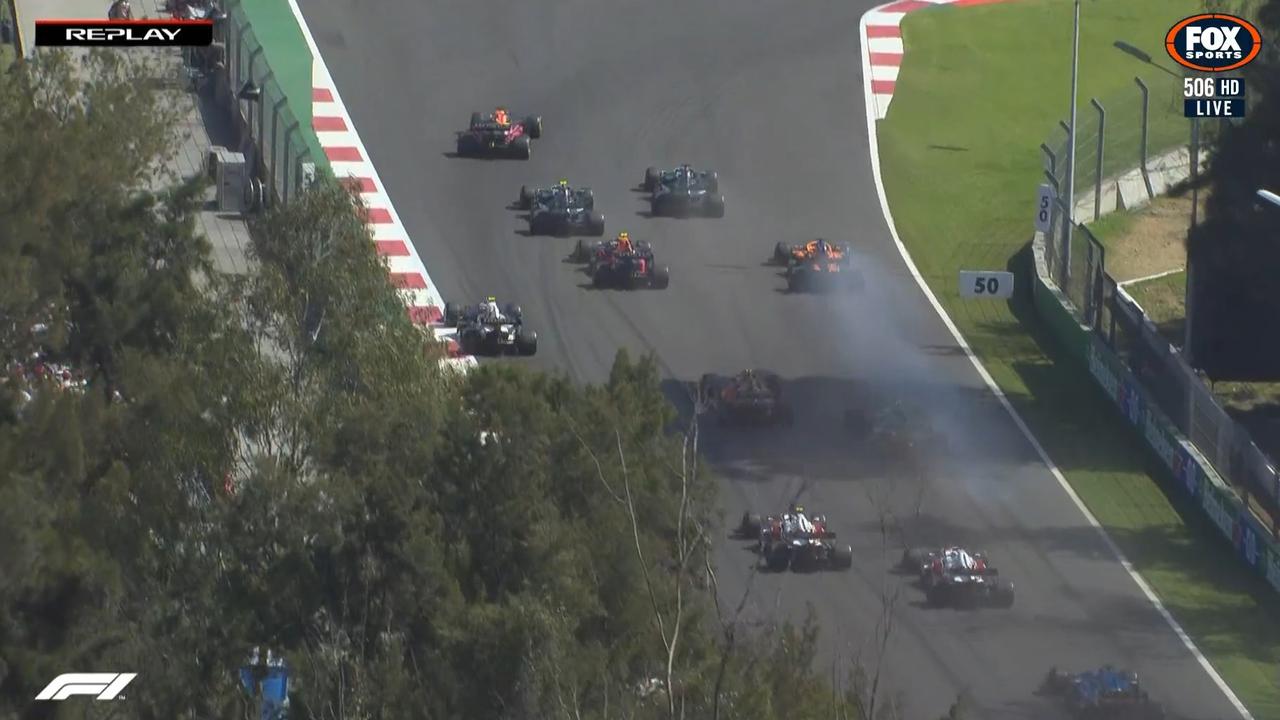 A "forlorn" Mercedes has hung Valtteri Bottas out to dry after an unforgivable sin that went overlooked in the early carnage in Mexico.
Max Verstappen has won the Mexico Grand Prix in dominant fashion on a day of absolute misery for Mercedes.
The Dutch driver is now 19 points clear of championship rival Lewis Hamilton with just four races remaining this season after he became the first driver to win the Mexico Grand Prix three times on Monday morning.
The victory was made all the more sweet for Red Bull with home-town hero Sergio Perez finishing third.
Watch coverage of the Mexico Grand Prix LIVE on Kayo. New to Kayo? Start your Free Trial >
Valtteri Bottas denied Max Verstappen a bonus point for the fastest lap by setting the quickest lap of the race on his final lap.
His flying lap is the only reason Mercedes is still one point ahead of Red Bull in the constructors championship.
It was a nightmare for Mercedes, who had started the day with such high hopes after Hamilton and Bottas started the race from the front row on the grid.
Daniel Ricciardo qualified seventh fastest for the race, but he found himself at the back of the field on the opening lap as a result of contact with Bottas heading into the opening turn.
Bottas also had to endure a sloppy pit stop blunder which cost him any chance he had at climbing up into the top 10.
However, Mercedes after the race suggested Bottas was the architect of his own demise.
Mercedes boss Toto Wolff was scathing of the Finnish driver while watching a replay of the run into Turn 1.
The footage showed Bottas committed the unforgivable sin of trying to close the door on teammate Lewis Hamilton on his inside — allowing Max Verstappen to sneak around the outside into the race lead.
Red Bull boss Christian Horner said after the race he couldn't believe how easy Bottas made it for his driver to take the lead, having started the race from the second row on the grid.
Verstappen had got the advantage of getting an aero-tow from his teammate heading up the straight — allowing him to surge around the outside of the two Mercedes. He never looked like surrendering the lead from there.
Wolff said the ultimate result of Bottas finishing outside of the top 10 was "annoying to say the least".
"That should not happen," he said of Bottas' move to the inside of the racing line, which opened the door for Verstappen.
"We had two cars in front and that seemed to open up the sea for Max to come around the outside.
"Even with the spin afterwards and the complete loss of points when it could have been a third or fourth with Valtteri's car. It's annoying to say the least.
"Overall it's a day to forget for us."
Former world champion Jenson Button called the Turn 1 incident a defining moment in the championship showdown between Hamilton and Mercedes.
Button pointed out on Sky Sports, Bottas' move heading into Turn 1 had also given Verstappen his most comfortable line through the opening turns and the same brake marker he had preferenced during practice sessions earlier in the weekend.
"And you know what, on the reconnaissance lap he went and braked right there," a staggered Horner said.
"It was almost like he practised it in his mind."
It leaves the reigning world champions with just a few days to find some answers ahead of next weekend's Brazil Grand Prix.
Former world champion Damon Hill said on Sky Sports Mercedes look "forlorn".
Wolff showed just how second-rate his team was in Mexico after the race when he admitted his team wouldn't have won even if Verstappen had been unable to jump them at the opening turn.
"You have to congratulate Red Bull because their pace was just on another level," he said.
"I don't think we could have won the race even if we could have stayed ahead in the first corner because they could have driven circles around us."
Ricciardo, meanwhile, never threatened to sneak into the championship points following his Lap 1 incident with Bottas and eventually finished 12th.
It was a tough day for Ricciardo's McLaren team, which picked up just one point as a result of Lando Norris finishing 10th.
Ferrari has pulled further ahead in the battle for third in the constructor's championship after Charles Leclerc (5th) and Carlos Sainz (6th) picked up a combined 18 points.
Here's how the race unfolded:
Lap 52: Max Verstappen looking untouchable
Max Verstappen is less than 20 laps away from another Grand Prix victory after opening up a 13 second gap on championship rival Lewis Hamilton.
Red Bull's Sergio Perez is in third, five seconds behind Hamilton.
Daniel Ricciardo has dropped down to 12th and has not recovered his speed as a result of his contact with Valtteri Bottas on Lap 1.
Lap 40: Bottas' day of misery continues, Verstappen gifted the lead
Max Verstappen is back in front after teammate Sergio Perez came into the pits on lap 40.
There was more misery for Mercedes driver Valtteri Bottas as he came into the pits for a stop that went horribly wrong.
Bottas was stationary for 12 seconds as his pit crew appeared to have an error fitting new tyres.
It came after he was edged and spun out at Turn 1 by Daniel Ricciardo on the opening lap.
He was also held up as he struggled to overtake the Australian for more than 20 laps.
"That's just another painful moment on a painful day for the Finn," Martin Brundle said on Sky Sports.
BBC racing commentator Jack Nicholls said: "Terrible Mercedes pit stop. Miserable, miserable day for Bottas".
He had started the race from pole position.
It leaves the top of the field looking like this:
1 – Max Verstappen
2 – Lewis Hamilton
3 – Sergio Perez
4 – Carlos Sainz
5 – Pierre Gasly
12 – Daniel Ricciardo
15 – Valtteri Bottas
Lap 32: Hamilton pits, Ricciardo frustrating Bottas
Lewis Hamilton has been forced into the pits as a result of pressure from Sergio Perez in their battle for second behind Max Verstappen.
Hamilton returned to the track in P5 behind Ferrari's Charles Leclerc.
Verstappen had a 12 second lead over his Red Bull teammate at the front of the field at the time.
Daniel Ricciardo has been defending stubbornly against Valtteri Bottas in the battle for 11th.
Ricciardo had earlier made contact with Bottas at Turn 1 which ultimately caused the Mercedes driver to spin out and drop to the back of the field.
Now the Australian is holding up the quicker Mercedes car with some impressive defensive driving.
Verstappen pulls ahead as dust settles on Lap 10
Max Verstappen has pulled three seconds ahead of Lewis Hamilton.
Racing order:
1 – Verstappen
2 – Hamilton
3 – Sergio Perez
4 – Pierre Gasly
5 – Charles Leclerc
17 – Daniel Ricciardo
18 – Valtteri Bottas
Absolute carnage right from the first turn
Max Verstappen surged to the lead after the first turn as pole-sitter Valtteri Bottas was wiped out.
Verstappen, Lewis Hamilton and Bottas went into Turn 1 three wide before Bottas was forced behind in a move that saw him spin out as a result of contact from behind.
There was speculation from Sky Sports commentator David Croft that Bottas had been trying to let his Mercedes teammate through.
It was huge drama as Bottas and Daniel Ricciardo dropped to the back of the field.
The Australian lost his front wing in the early frenzy.
Replays showed the Australian's aggressive dive into Turn 1 was the reason Bottas was bumped out of control.
With Ricciardo and Sergio Perez also getting fast starts it briefly looked like the field was five-wide as they headed into the first corner.
The FIA announced several laps later the incident between Bottas and Ricciardo would not be investigated with the contact announced to be a "racing incident".
Former F1 driver Jolyon Palmer told the BBC he was "baffled" Ricciardo was not investigated.
Mick Schumacher and Yuki Tsunoda were wiped out of the race before the end of the opening lap.
F1 icon Martin Brundle described it as a "nightmare" start for Mercedes after they had locked up the front of the grid in qualifying.
Mexico City atmosphere is something special
There was plenty of support for local hope Sergio "Checo" Perez in Mexico as fans turned out in force to show the Red Bull driver some love.
F1 analyst Karun Chandhok described it as an "amazing atmosphere" on Twitter, Sky Sports presenter Simon Lazenby called it "incredible" while legendary commentator Martin Brundle said it was "wild out here".