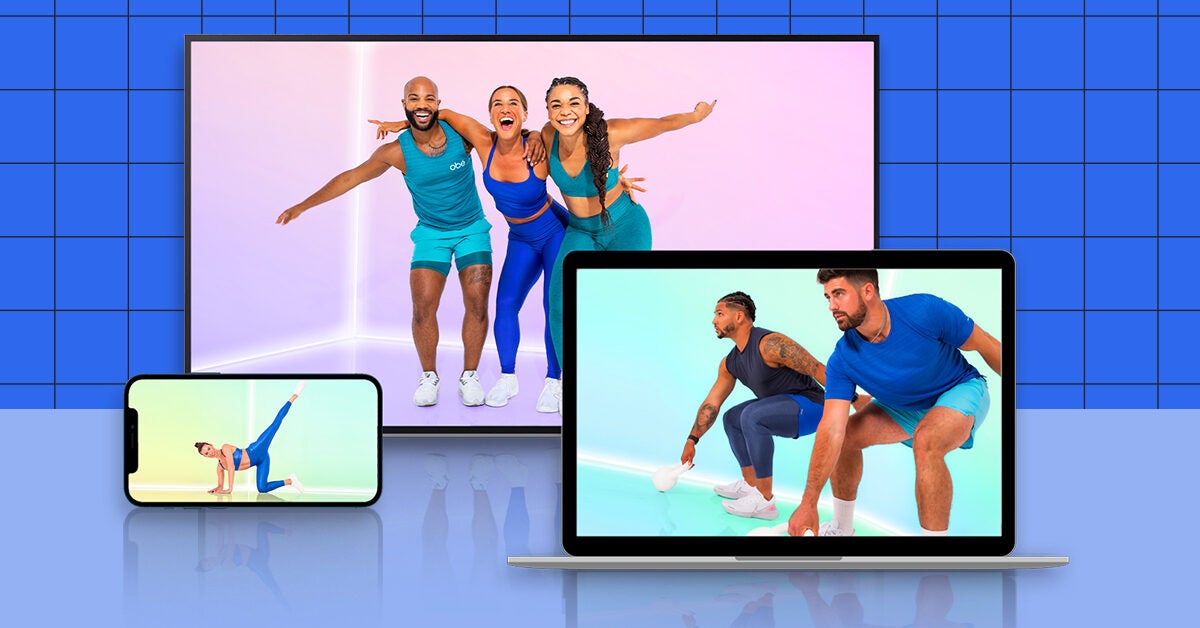 Virtual fitness has been absolutely exploding during the pandemic — and it's not slowing down. Turns out, people are big fans of the convenience (and lower price $$) of working out at home.
Obé (rhymes with "olé") joins the likes of Peloton and iFit as a streaming fitness service with both live and on-demand classes. Its classes are filmed in brightly lit studios and taught by perky instructors that give off total ~'80s vibes~. But is this midpriced fitness app the right fit for you?
We tried out a range of classes and dug into Obé's offerings to see what's amazing, what's average, and what might have you looking elsewhere.
Obé's founders wanted to inspire people to get into fitness through upbeat '80s-inspired workouts. The classes are filmed in brightly lit studios, and instructors wear updated-but-definitely-still-'80s-inspired fitness apparel.
The company's mantra is "Strive for Five!" — the goal is to exercise at least 5 times a week, with the recommendation of 3 strength training and 2 cardio classes. You have a lot of ways to do that with a single subscription.
Obé has an impressive collection of more than 6,000 classes, with up to 22 live classes per day. Classes require a minimum amount of equipment, and class length varies from 5 minutes to an hour.
Users access it all via a subscription purchased monthly, quarterly, or annually. Each progressively more expensive subscription level comes with more perks, but they all provide access to 6,000+ classes and all the live classes.
Though Obé's classes give off that '80s vibe, the classes are nothing like your mom's beloved Jazzercise routine.
The company offers 18 types of classes, all with varying lengths (anywhere from 5 minutes to an hour) and fitness levels (including open level, beginner, advanced, prenatal, and postnatal). It also has class options specifically for kids and older adults. Talk about ~options~.
Buckle up! Here are all the types of classes Obé offers:
Some classes, like Ride, Foam Roll, and Bounce, obvi require equipment (you can't ride if you don't have an exercise bike, after all). But the rest of the classes require very little (if any) equipment. A yoga mat, the occasional dumbbell or ankle weight, and yoga blocks are all you really need.
You can filter classes based on the equipment required, so if your home gym is lacking, you can quickly find a class to do with what you have right at home.
You can buy an Obé Fitness subscription through either a monthly, quarterly, or annual plan. As these things usually go, you end up paying less if you commit to a longer membership. But Obé also offers some unique perks if you opt for the quarterly or annual plan:
We didn't actually get to try the premium classes, but Obé describes them as "mash-up" classes where instructors pair up to teach classes together. The company says they're the most popular classes, but TBH, it doesn't sound like that big of a perk.
BUT the gift card *is* a pretty sweet perk — you can use it to buy Obé swag on the company's website. We all love new fitness apparel and gear, amirite?
In comparison, Peloton and iFit both cost $39 per month for a family membership, which gives you and your fam (and friends, if we're being honest here) access to a similar library of classes.
Overall, users love Obé. The workout variety, class length options, and bang for your buck leave users coming back for workouts day after day. Whether live or on-demand, you can find something in your available time frame that fits your fitness level and interests.
However, there are a couple of things that are hit-or-miss with subscribers.
First, the instructors. Overall, the instructors are great and very peppy (like "Saved by the Bell" kind of peppy). Some people live for that kind of optimism, but other people absolutely hate it.
Reviewers also say that some instructors provide better instructions and workouts than others. And yes, this is typical of any instructor-led experience — but it's especially important to have good instructions when you're working out at home, where you can't get any personalized cues or corrections.
Some users also have issues with the whole brightly colored '80s feel. This particular aesthetic isn't for everyone. And keep in mind this isn't a reflection of the workout quality — just the overall vibe.
We tried a range of Obé's classes and felt a bit differently about each. Here's how it went:
OK, now we know more about the app itself, but is it right for you? Here's what to consider.
Lots of fun classes
Sometimes it is hard to get yourself to do an at-home workout. Doing the same moves over and over can get really old, making it feel impossible to jump into a daily workout.
Obé beats the boredom with a wide range of workout options, including some that use more unusual home workout equipment (hi, exercise trampolines!!).
The app also makes it easy to narrow down the selection of nearly 6,000 classes. You can filter by the part of the body you'd like to target, the style of exercise, your age, and your fitness level. It's pretty fun scrolling through and seeing what your options are by changing a few of the parameters.
If you tend to get bored while working out at home, Obé's extensive library won't disappoint. But if you prefer your well-established routine, it may be hard to make Obé a part of that.
Upbeat, energetic instructors
If you're the kind of athlete who needs someone energetic and positive, the Obé instructors will brighten your day. They're fun and excited even though you're not in the same room.
But if you're a no-BS kind of athlete who would rather blast your own music and not hear the sound of someone's voice, you might find yourself a little annoyed by the instructors.
Live options
The nice thing about live classes is that you have to be there when they start, which can be a great motivator for getting yourself to work out. They're also an opportunity for shout-outs from instructors, which some people loooove, but some people don't care at all about that stuff.
Sooo how does Obé stack up against competitors? Here's a side-by-side look at Obé and other popular options:
Obé is worth the price for the right exerciser. If variety keeps you motivated and you like a bright, sunshiny workout, Obé has what you need. You won't run out of workout options anytime soon. But if you want more advanced options or just don't love the '80s, you might want to look elsewhere.